WASHINGTON — Before 2016, the foreign and domestic emoluments clauses of the U.S. Constitution didn't get much attention.
Now, these two short sections — which historians and legal scholars interpret as prohibiting government officials from accepting gifts from foreign or domestic governments without congressional approval — are the subject of several lawsuits against the president, two of which were recently revived in the courts.
President Donald Trump has been outspoken in his response to the legal controversies, calling the emoluments clause "phony" in an Oct. 21 press conference.
Emoluments have been an occasional issue for previous presidents or candidates, such as when the Clinton Foundation accepted foreign donations or President Barack Obama received $1.4 million for winning the Nobel Peace Prize. 
But with Trump's vast business empire — which is often entangled with foreign markets and dignitaries — the press, courts and lawmakers are turning an unprecedented level of attention to the clause the Founding Fathers wrote into the Constitution over two centuries ago.  
"It sort of feels like it's every day that the president is getting sued," said Steven Schwinn, a law professor at the University of Illinois at Chicago John Marshall Law School. "But it turns out that it's not every day the president gets sued for something like an emoluments violation."
The history
After the American Revolution, it was paramount to the Founders to remain independent from Britain, and historians say one measure they took to do so was preventing foreign governments' attempts to corrupt officials through sending money or other gifts. 
So, the Founders embedded their resolve in the Constitution. 
"No Person holding any Office of Profit or Trust…shall, without the Consent of the Congress, accept of any present, Emolument, Office, or Title, of any kind whatever, from any King, Prince, or foreign State," reads Article 1, Section 9. 
Historians and constitutional scholars question what the clause covers, debating if a violation would be a foreign government paying a U.S. official's salary, supplying any monetary contribution, or simply sending a gift in any form.
Explore our emoluments case interactive: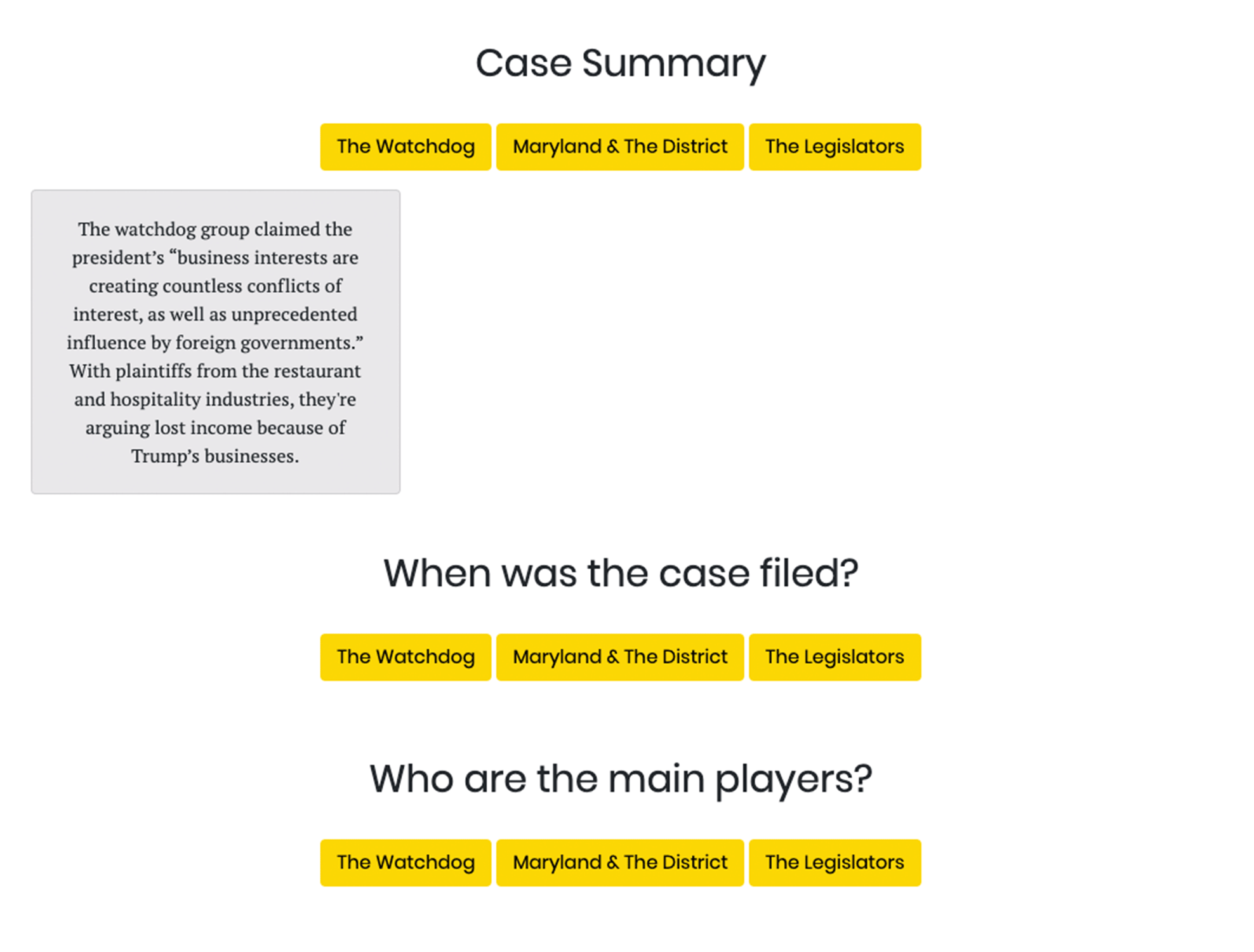 The allegations
When Trump was elected, he said he passed leadership of his businesses to his sons, Eric and Donald Jr., and kept Allen Weisselberg as the Trump Organization's chief financial officer. Democratic legislators called for the president to divest himself from his businesses, a measure previous presidents, such as Jimmy Carter, have taken. 
Trump opted not to do so.
"My executives will run it with my children. It's a big company. It's a great company. But I'm going to have nothing to do with management," then president-elect Trump said in a December 2016 interview with Fox News. 
But critics said there still remained ample opportunities for him to profit. 
Office of Government Ethics spokesman Seth Jaffe said in a 2016 statement that "divestiture resolves conflicts of interest in a way that transferring control does not." 
Schwinn agrees that divesting would have been the best way for the president to avoid any potential emoluments violations. 
"That he has declined to do that is notable. He just owns hotels and restaurants in so many locations, it's hard for him not to violate the emoluments clause, strictly speaking," Schwinn told Capital News Service. 
But some scholars say divestment wouldn't put the president in the clear legally, because foreign actors could continue to frequent Trump hotels, resorts and golf clubs in order to curry favor with the president, not just benefit him monetarily. 
"There is felt pressure on the part of other countries to patronize Trump properties," Andrew Koppelman, a law professor at Northwestern University, said. 
Koppelman cited the president's now-notorious call with Ukrainian President Volodymyr Zelensky, in which Zelensky made a point to tell Trump he had stayed in his New York hotel when he was traveling to the United States. 
The administration seemed unconcerned with appearances, announcing in mid-October that Trump would hold the G7 summit at his South Florida golf resort, Trump National Doral in Miami. Under widespread criticism, including from Republicans, the president dropped that plan just days later, tweeting that the "hostile media & Democrat partners" ruined it. 
The Center for Responsive Politics reports that since 2015, Republican Party political committees and Trump's Cabinet have spent over $20 million at his properties. 
One of the most prominent examples was Vice President Mike Pence's stay at the Trump Hotel in Doonbeg, Ireland. The hotel was well out of his way — 181 miles to be exact — as he was there to visit the Irish prime minister, Leo Varadkar, in Dublin. 
In a separate visit to his Irish club last summer, Trump's company charged several Irish police officers more than $100,000 for food and coffee after they were enlisted to protect the president.  
The Lawsuits
Since Trump's election, three lawsuits — including one involving Maryland —  have alleged that the president's actions are a constitutional violation. Explore our case interactive here. 
1. The watchdog
Days after Trump's inauguration, Citizens for Responsibility and Ethics in Washington, a watchdog group in Washington, filed a lawsuit claiming the president's "business interests are creating countless conflicts of interest, as well as unprecedented influence by foreign governments."
In order to sue, CREW had to demonstrate wrongdoing: that the president's actions had injured the organization in some way. In its first complaint, the group claimed Trump's actions had consumed much of its time and resources, inhibiting it from focusing on other issues that required its attention. 
The group later added three plaintiffs: Jill Phaneuf and Eric Goode, who have experience in the restaurant and hotel industries, and a nonprofit called Restaurant Opportunities Center United. 
Even so, a U.S. district judge dismissed the case in December 2017, saying the plaintiffs hadn't sufficiently proved how the president's actions "injured" them. 
"President Trump was democratically elected by the American people – and he was elected with his business holdings and brand prominence in full view," said U.S. Circuit Judge John Walker, who was appointed by former President George H.W. Bush. He also called the lawsuit "deeply political."
But in October, the case got new life when judges in the U.S. Court of Appeals for the 2nd Circuit agreed to hear it. 
"While it is certainly possible that these lawsuits are fueled in part by political motivations, we do not understand the significance of that fact," Second Circuit Judge Pierre Leval wrote with Judge Christopher Droney. Both judges were appointed by former President Bill Clinton.
"If the challenged conduct falls within what the Constitution describes as the receipt of 'emoluments,' the conduct is prohibited by the Constitution in the absence of congressional consent," the judges wrote.
2. Maryland and the District
In June 2017, the state of Maryland and the District of Columbia brought a lawsuit against the president, alleging that residents who are competitors of Trump's businesses are losing out on profits that are being unconstitutionally seized by the president's empire. 
The argument didn't convince judges in the Fourth Circuit Court of Appeals, who unanimously ruled in July that the plaintiffs lacked standing to sue. 
"The District and Maryland's interest in enforcing the Emoluments Clauses is so attenuated and abstract that their prosecution of this case readily provokes the question of whether this action against the President is an appropriate use of the courts, which were created to resolve real cases and controversies between the parties," wrote the three-judge panel in a 36-page opinion. 
In October, the plaintiffs got another chance. 
The circuit court opted to reconsider the case, and oral arguments are scheduled for December. 
In a joint statement, District of Columbia Attorney General Karl A. Racine and Maryland Attorney General Brian E. Frosh said: "We look forward to arguing our case before the full panel to stop President Trump from violating the Constitution and profiting from the presidency."
3. The Legislators
In a rare legal move, nearly 200 Democratic lawmakers filed a lawsuit in June 2017 against Trump for emoluments violations.
As members of Congress, they claimed they were not given the opportunity to approve or deny the president's business dealings, as provided by the Constitution's foreign emoluments clause. Their legal argument differs from the other cases that center on losing money. 
The suit opens a litany of legal questions about what cases can be brought against the president and who can bring them, according to Andy Grewal, professor of law at the University of Iowa.
"It raises this whole other profound question of whether individual legislators can sue the president," Grewal said. "Usually when legislators fight with the president they do it in the political battlefield, not in the courts."
A U.S. District judge ruled in September the plaintiffs had standing to sue.  
Grappling with the law
Some constitutional scholars say the plaintiffs' arguments are inherently flawed or rooted in a misunderstanding of the emoluments clause.
"The theory that any of these persons has the right to sue and get relief in court is a stretch, in my view," Grewal said. "The clause was designed to address corruption among officials. Nobody until two years ago ever thought that meant that the owner of a taco truck could sue the president of the United States because people are buying tacos at the Trump Tower grill as opposed to a taco truck nearby."
Other legal experts, like Koppelman, say the argument absolutely has merits. 
"It is exactly what the emoluments clause is there for," Koppelman said.  "Why did the Framers not want federal officials to take money from foreign governments? Why isn't it just their private business what their sources of income are?…The concern was the taking of money would influence decisions."
If one or more of the plaintiffs wins in the courts, Grewal warns there could be unintentional fallout that he said could wreak "absolutely havoc" for people other than the president. 
An officer in the U.S. Army who works for a public school in Australia could potentially be accused of violating the emoluments clause by taking a payment from a foreign government, causing that pay to be docked from his or her pension, Grewal said. 
He added the decision could affect veterans or members of Congress who accept any gifts from foreign governments. 
"It really is the case that everybody can't live in a little bubble. It's going to have a lot of effects on a lot of persons," Grewal said. 
If plaintiffs prevail after Trump leaves the White House, he could potentially be forced to pay damages.
Scholars say it will take years for these cases to get through the courts – and because they are dealing with a federal issue, they could very well make their way to the Supreme Court.