CROWNSVILLE, Maryland — Following the sale of historic Annapolis staple Chick & Ruth's Delly and the Scotlaur Inn, former owners Ted and Beth Levitt are more than ready to take advantage of something they never thought they'd have: time.
"Our whole life is the deli and we don't know anything else, I honestly don't even know what we're going to talk about," Beth laughed as she sat comfortably in her home in Crownsville, Maryland, eight miles away from the deli. "We need time with each other, with our family and for ourselves."
From the day Chick and Ruth Levitt purchased the establishment in 1965, their son Ted has worked 52 weeks a year for 52 years.
Since they officially took over the family business in 1979, Ted and Beth have been in the deli most weekends, save for the rare, occasional vacation.
Beth's average day consisted of sitting in the basement with a pile of paperwork, keeping the place running from behind the scenes. As for Ted, it meant staying on his feet and constantly mingling with customers to make sure every individual was as happy there as he was.
"I get in an hour before we open at 5:30 a.m. and am on my feet right until closing time," Ted said. "I can't remember the last time I had lunch sitting down."
On the piano in the Levitts' foyer sits a sign recently given to them by a family friend that reads, "I'm not retired. I'm just getting started." As Ted sits on a lounge chair with his Yorkshire terrier Madi on his lap, he looks calm and content, ready for a new way of life.
The Levitts' reputation stems from the deli, yet what most people don't know is that Ted doubles as an avid engineer and collector, while Beth is a licensed real estate agent.
Ted has been collecting and working on cars since he purchased his first car, a 1933 Dodge Street Rod, when he was 17 years old. What was first a part-time, self-taught hobby will now become a daily routine.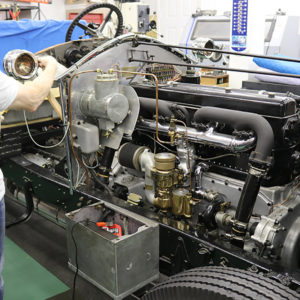 "I just want to restore my cars," Ted said with a smile. "I've been a member of the Dodge Brothers Club for 38 years and the Rolls-Royce Owners' Club for 27 years but I haven't been to a single meeting yet."
In the basement of the Levitt's home behind a glass window sit car lifts, welding equipment, various building tools, 10 cars and two motorcycles, most of which were made before 1935. In a separate garage are two more Dodge Brothers classics from 1928.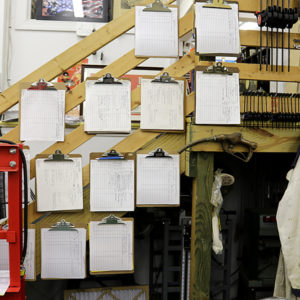 On the wall of the main garage hang 12 clipboards — one for each car. Out of habit from clocking in at the deli his whole life, Ted has clocked in and out of his garage every time he restores anything ranging from a paint job to the carburetor.
In addition to materials, Ted has scrapbooks of photos that trace the lifelines of each of his cars. The most memorable photo to Ted, though, is one of Chick and Ruth in the back seat of their very first car on the day that Ted got it running again. Ruth Levitt died in 1986 and Chick Levitt died in 1995.
"I'm a firm believer in the idea that you can do anything you want to do," Ted explained nonchalantly.
Ted also has an admiration for trains. When he and his family moved into their home 17 years ago, Ted had a separate room in the basement built specifically for a mechanically engineered, working train set. With help from an architect, Ted was able to turn a mini model into a hand-crafted civilization.
Every piece of material is hand made, ranging from the "mountains" constructed of old ceiling panels to the "trees" built from fallen branches found in Ted's neighborhood. In addition, every building surrounding the track is named after a close family friend or loyal Chick & Ruth's customer.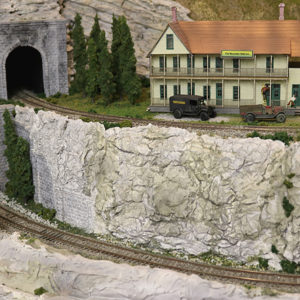 While Ted constructs his cars, train and even old music boxes for children of the people that he has grown up with in the deli, Beth will continue to take classes and dive into real estate.
"It's been a long time coming," Beth said in reference to the sale. "We probably couldn't have hand picked a better guy to take our place."
New owner Keith Jones, a California native and frequent customer of Chick & Ruth's, is honored to take over the holistic legacy of the deli and inn.
"What's unique about this place is its linkage to tradition, and I think it's my responsibility to maintain those traditions," Jones said. "Working with people of high integrity, like Ted and Beth, makes this transition that much easier."
When the Levitts informed the staff of the change in the beginning of September, they didn't know what to expect. After they made their announcement, Keith walked in and almost immediately the whole staff broke into a chant followed by applause for their new boss.
To Ted, the moment felt like it was scripted for a TV show.
"Those people are our family, and he spoke to them so eloquently and made them feel like everything was going to be okay," Beth reiterated.
Ted has watched five generations of people come through the deli and for him, every person has a special place in his heart.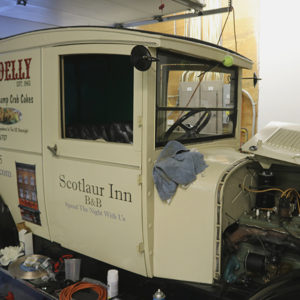 "I've watched these people grow up and they're my extended family," Ted explained with tears in his eyes. "You know who they are and what they do and vice versa, it's that simple. I'm old school though and work ethics are changing, it's time for change."
The Levitts' have been in Annapolis for the majority of their lives, yet have never had enough leisure time to really participate in activities for themselves.
The Levitts said they are looking forward to visiting their two children at least once a month. Scott, their son, works as an ER doctor in Oregon and their daughter, Lauren, is a real estate agent in New York City.
The Levitts said last month they planned to attend the Maryland Renaissance Festival, renovate their home to fit more cars that Ted intends to collect and work at the deli for a few weeks to show Keith Jones the ropes.
"I'm going to wake up every day and head over to Chick & Ruth's for breakfast," Ted said confidently. "I'm looking forward to experiencing all the things that they like about the place. I can enjoy those now, too."