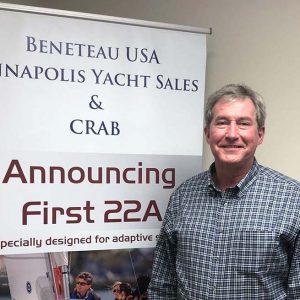 ANNAPOLIS, Md. – Paul Bollinger can recall many memories that exemplify the work his organization, Chesapeake Region Accessible Boating, does for people with disabilities. But one sticks with him.
About a year ago, CRAB gave a sailing lesson to an older man with what Bollinger described as bruised, "paper-thin" skin. The man struggled with seasickness and the pain of movement on his body in the boat, but Bollinger remembered him having an otherwise good time. Weeks later, Bollinger called to follow up with the man and learned from his caregivers that he had died.
"And I said, 'Oh my gosh, I'm so sorry to hear that,' and they said, 'No, no, don't be, this was on his bucket list,' " Bollinger recounted. " 'He wanted to go sailing, and you took him sailing before he passed away.' "
Bollinger added, "You know, you're sad that someone's left this earth, but you're happy that you at least did something that made them very happy before they leave."
CRAB, an Annapolis-based nonprofit that provides sailing lessons, clinics and regattas for people with disabilities, veterans and at-risk youth, is now looking to expand its offerings by seeking funds for a new adaptive boating center.
The nonprofit currently runs its sailing operations off a small dock in Sandy Point State Park from April through October, and it is only allowed to use one nearby picnic table, according to its website. Bollinger, CRAB's executive director, said the lack of space and overcrowding of the park negatively affect the guests' experience.
He said an adaptive boating center would provide a fully accessible floating dock with more slips and more space for fellowship on land nearby. It would also allow CRAB to house a pontoon boat for guests in wheelchairs, which cannot be kept at the park.
Bollinger added that the new center would further make CRAB a "huge asset to the city" with its unique services.
"We're not taking people for boat rides, we're teaching them how to sail," Bollinger said. "Because if we just took them for rides, that's enjoyable, but it's not therapeutic."
CRAB's fight for the adaptive boating center is not new. The organization has sought funding and support from the state, Anne Arundel County and the city of Annapolis in previous years, but it's been largely unsuccessful, Bollinger said. This year, however, Maryland Gov. Larry Hogan placed $1 million in the proposed Fiscal Year 2020 Capital Improvement Plan to go toward the new center, and the funds remained in the budget upon passage. 
CRAB is also gathering support for the adaptive boating center from Annapolis Mayor Gavin Buckley and the Anne Arundel County delegation, Bollinger said. More funds are needed to acquire the marina and build the center, he said. Mitchelle Stephenson, Buckley's public information officer, could not say whether or not CRAB would receive the local funds it's seeking.
Bollinger gave a presentation about the center to the county delegation during a meeting in March. He named Del. Alice Cain (D-District 30A) as one of CRAB's biggest supporters, and Cain echoed that in a written statement provided by her chief of staff.
"To know CRAB is to love it," Cain wrote. "This is an organization that makes a real difference in people's lives and I fully support funding to support their excellent work."
Tom Ostrye, a designer with Big Dog Designing, has experienced CRAB's work first-hand by sailing with members for the past 10 years. Ostrye, who suffered a brain injury when he was 12 and now uses a wheelchair, said in a phone interview that he appreciates CRAB's service.
"There aren't really a lot of recreational activities for those with disabilities, and so I tried it out and really liked it, so I kept coming back," Ostrye said. "I enjoy it, and I really enjoy seeing other people get to enjoy it, you know, just people that don't really have any other opportunity to have fun. … It's great to see that happening."
Bollinger said he is "looking forward to cutting the ribbon" on CRAB's new center when the time comes.
"When you pull up to the front of the adaptive boating center, the sign is going to be blue, just like the blue sign in the parking lot," Bollinger said. "You're going to have comfort and knowledge and knowing that when you come here, you're going to not have any issues with sailing, boating, enjoying yourself."
—